Every Detail Counts. Every Memory Matters.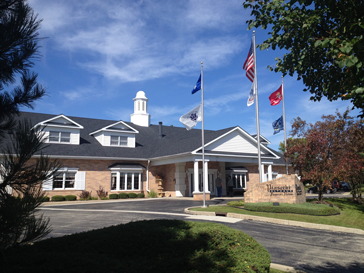 Losing a loved one can be the most difficult time in your life, whether an elderly family member has passed after a long illness or a child was tragically taken from you. Piasecki Althaus has made it our life's work to extend a compassionate, caring hand to help you in your time of sorrow.
A funeral brings together family and friends to celebrate life and begin the process of healing. It is our mission to honor the legacy of your loved one with a unique, heartfelt tribute. We encourage you to share stories, favorite songs, personal items, and treasured photographs so we can create a truly personalized memorial for your loved one and help you say good-bye.
When you don't know who to call, you can call us any time day or night. Our caring, attentive staff will answer your questions, anticipate your needs, and exceed your expectations. After the funeral, we will also be here to support you through your grief toward finding joy again.
From at-need services to pre-planning arrangements and support after the funeral, we believe that every detail counts and every memory matters. Originally founded in 1929 in Chicago, we have proudly served Kenosha families since 1931 with our mission of honoring personal legacies in the circle of life.
Sincerely,
Nancy Piasecki and Bill Althaus
3720 39th Avenue
Kenosha, WI 53144
Phone: 262-658-4101
Lean on the Caring Individuals at Piasecki-Althaus

Call on us to help your family and guests celebrate your loved one's legacy. Our experienced, compassionate staff is here to serve you.
Nancy Piasecki – President

Deliver a message to Nancy Piasecki
Nancy has been managing the funeral home business office since 1955, when she married Michael Piasecki, Sr. and moved to Kenosha. Her community involvement includes service on the boards of Hospice Alliance Inc., St. Catherine's Hospital Auxiliary, and St. Catherine's Hospital. She is a member of the Kenosha County Girl Scout Council and the P.L.A.V. Auxiliary. Nancy has been a member of St. Peter's Catholic Church for over 40 years and is former chair of St. Peter's Finance Committee. She has four children and six grandchildren and loves to spend time with her family and friends.
Bill Althaus

Deliver a message to Bill Althaus
Bill began working for Piasecki Funeral Home in 1984 and partnered with Nancy Piasecki in 1986 to form Piasecki-Althaus Funeral Home. Service to his hometown of Kenosha includes involvement with St. Catherine's Hospital Development Council, Knights of Columbus, Polish Legion of American Veterans, Kenosha Library Foundation, St. Joseph High School, and others. As a lifelong member of St. Mary Catholic Church, Bill serves as cantor and is a former catechism instructor. He also enjoys emceeing community events and sharing the gift of his voice.
Tom Bain

Deliver a message to Tom Bain
Tom has been a licensed funeral director and embalmer since 1973. A lifelong resident of Kenosha, he is a graduate of St. Joseph High School and holds a Bachelor of Science in business management from UW Parkside. After a part-time job sparked his interest in funeral service, Tom attended Worsham College of Mortuary Science and graduated salutatorian. After a 30-year career in collection management and cemetery administration, he started working at Piasecki-Althaus in 2007. Tom and his wife, Nita, are the proud owners of a 1964 AMC Rambler Classic.
Coriann Martin

Deliver a message to Coriann Martin
A Milwaukee native, Cori relocated to Kenosha and began working at Piasecki-Althaus in June of 2001. She graduated from Milwaukee Area Technical College in 1997 and is licensed in both Wisconsin and Illinois.
Laura Radtke

Deliver a message to Laura Radtke
Laura moved to Kenosha County and joined the Piasecki-Althaus team in April of 2004. She attended UW Parkside and graduated from Milwaukee Area Technical College in 2001. Laura is a proud member of the American Society of Embalmers.
Kathleen DeFord

Deliver a message to Kathleen Theis
Kathleen has been a licensed Funeral Director since 2010. At the age of 11, during the illness and loss of her grandmother, she knew she wanted to help others. She was a 2004 graduate from Indian Trail Academy. She went on to receive her bachelor's in anthropology from the University of Wisconsin-Madison and her associate degree in funeral service from Milwaukee Area Technical College. Kathleen served her apprenticeship and became a licensed funeral director while working at Wilson Funeral Home in Racine. She is a member of both the National Funeral Directors Association and Wisconsin Funeral Directors Association. Kathleen currently resides in Kenosha with her husband, Kevin DeFord.
Julie Ruhle

Deliver a message to Julie Ruhle
Julie has more than 30 years' experience as a licensed property, casualty, life, and health insurance agent. In 2001, she changed her career path and began working at Piasecki-Althaus. Julie loves helping people and is an invaluable resource for families who have questions about life insurance and need help filing claims. Julie treasures her role as sole caregiver for her father, who still lives in his Pleasant Prairie home.
Anne Wasilevich-Tabbert

Deliver a message to Anne Wasilevich–Tabbert
Anne began as a part-time office assistant at Piasecki-Althaus in 2012. Today she is the marketing specialist. Born and raised in Kenosha, Anne currently lives in Salem. She graduated from St. Joseph High School and continued her education at UW Parkside and Gateway Technical College. Anne demonstrates an incredible commitment to her community through service to the St. Joseph Catholic Academy, the Leukemia & Lymphoma Foundation, the Red Cross, and Make-a-Wish. Her compassion and understanding make her an asset to the GriefShare program, which she co-facilitates with Pastor Charlie Hansen.
Ron Nelson

Deliver a message to Ron Nelson
A 20-year resident of Kenosha County, Ron has served as Piasecki-Althaus' director of family services since 2004. In this role, he supports families in pre-planning for the future to reduce the sudden emotional and financial stress of losing a loved one. Ron is also a licensed intermediary and agent for burial trust agreements. He attends Immanuel Baptist Church and is president of the Kenosha Rotary Club. Ron and his wife, Beverly, have two married daughters and one beautiful granddaughter.